In November 2009,  we had the official kick off of Bread of Life Baptist Church. Here we are five years later, and God is still blessing this work.
A few week ago, Thursday night we had a special children's program. Of all the pastors that I have trained, Pastor Mamadou has the biggest heart for the children's ministry. He has a very successful kid's club each Thursday afternoon. He will have between 35-50 children come each week, and he knows them all by name. He invited my wife to teach and asked if we could do some fair type games where they can win some candy. The kids had a tremendous time. There were about 80 children present.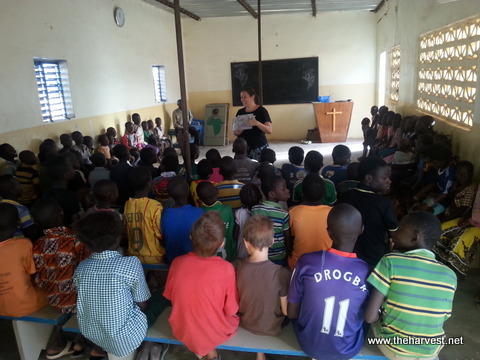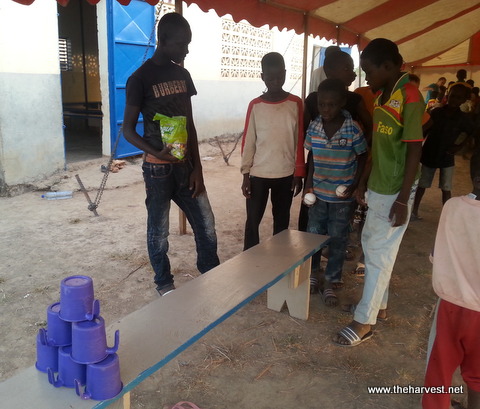 Friday and Saturday night we showed some Gospel films and preached the Gospel. We didn't have many come forward for salvation, but we are thrilled that so many came to hear the good news.
Sunday morning we had tons of kids come and many visitors. There were 8 first time visitors.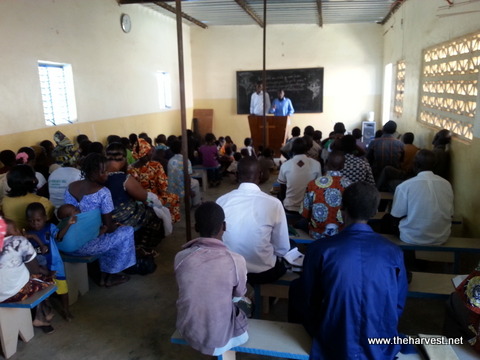 That Sunday night we had a special service. We invited all the other churches to come. Since Pastor Mamadou and his wife Antoinette are from Living Water Baptist Church, and Bread of Life BC was a church plant from Living Water Baptist, we felt like we needed to honor them. Our church members gave testimonies, sang songs and gave gifts. It was a wonderful time. The big gift of the evening was a new guitar for Pastor Mamadou. His old guitar couldn't stay tuned for even 5 min. He told me that he was praying that God would somehow provide him a nice guitar to play but didn't know how he would get one. What a thrill to see how God provides and what God is doing thorough Pastor Mamadou and Bread of Life Baptist Church.