I know that I just sent you our prayer letter yesterday, but I didn't send the list of the different projects.
Here is a breakdown of what we are wanting to accomplish in the next 6 months or so.  All the costs are estimates.
Praise the Lord, the first $350 of the $150,000 needed has come in.
Two urgent needs:
New Church plant – We bought 2 and half acres in a village named Nabitenga.  It is about 25 min from where we currently live.  It is our goal to plant a church there and also to start a camp.  We will buy more land in the future (hopefully 10 acres) and start building the camp, but the current need is for the church plant.  We need to build a house for Pastor René,  (He will be leading the new work.) and a room to start the church in.  Everything is ready to go as soon as the finances are there.  Cost = $10,000 Below is a picture of Pastor Justin and I after we bought the land.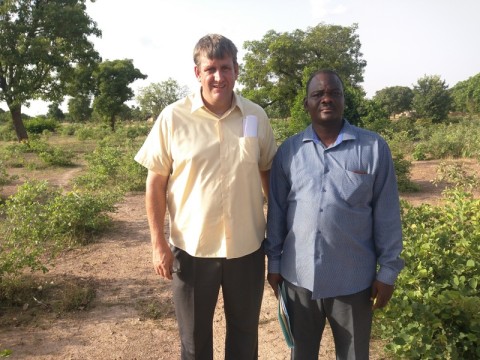 Finish building in Zagtouli – God has blessed this church plant.  We have been having services under a grass hanger for the last few months, and children's church is on mats under a tree. Rain has often messed up our church services and kids clubs.  We are in the process of building a three room building.  The first room is partly finished.  The urgent need is to finish it out.  This will be our church building for the time being.  The cost to finish it is  $4,000.  Below is a picture of of our church services in the grass hanger and of the unfinished building.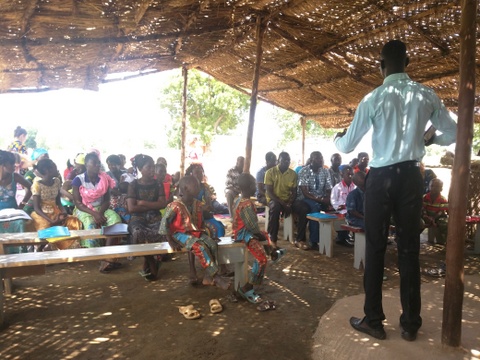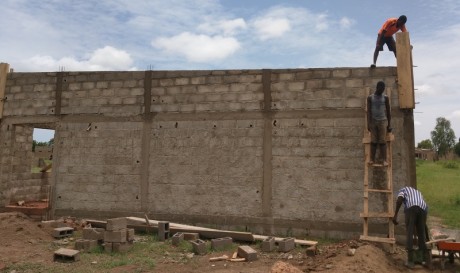 Needs we want to finish before the end of the year or first part of next year.
2nd church plant –  In October/November we are looking at starting another church in a suburb of Ouagadougou.  The land we have in this area is a tremendous blessing.  There are thousands and thousands of people are around it.  We need to build a church building.  Cost –  $10,000
Church building – Pastor Mamadou has been at Sanoré since 2009.  They have been meeting in a class room since 2009.  The church has grown each year and is in desperate need of a nice church building. Cost — $15,000 for the building and $5,000 for a parsonage for the pastor.
Lodging in Pissila – Pissila is a strategic town.  Pastor Salif has been serving in the region since 2009.  He has started a work in Pissila and also 4 villages.  He desires to reach all 60 or so villages that border Pissila.  I think he will do it.  It would be best to build a parsonage and lodging on this land. $10,000
Land needs (near Zagtouli) – It is our desire to purchase multiple pieces of land near our work in Zagtouli.  Each day Ouagadougou grows, and so does the price of land.  We would love to have a network of churches in close proximity of us in order to train men more effectively before we send them off to other areas of Burkina Faso.  $14,000 is needed.
Office Building (Zagtouli) – Since moving to Zagtouli (suburb of Ouagadougou) I don't have an office.  I still travel to Living Water Baptist Church often, but I don't even have my own desk.  It is our plan to be in this location for many, many years.  This office would include a recording studio.  God has already blessed some of our audio/visual endeavors, and we would like to expand. It would also include a printing room (for booklets, etc.), a conference room and a dorm-room/lodging (for Bible College and pastor conferences) on the second floor. $50,000
Wall (Zagtouli) – It is best to build a wall around the land in order to secure our purchase and also for security reasons.  $12,000
Land (near Saonré) – Pastor Mamadou has wanted to start a second work a little south of where he is.  There is already a village there but the city is also growing out to that area.  So now is the time to buy something.  $4,000
To the right and left are pictures of the members working hard gathering sand and rock for construction.