What should be the dream or vision of every pastor or missionary is to see advancement in the work of God. I must say that when I left for the mission field I dreamed big. I figured that I had a big God that can fulfill big dreams if they are according to His will. The summer of 2008 we had our first youth/church camp. It was a spur of the moment thing, and God blessed in enormous ways. We had around 25 people from two different churches. Fast forward to August 2014, and we just finished our 7th youth/church camp. We were expecting around 100 but we had around 150 present. They came from 12 or more different churches.
The theme for camp was "The Word of God, the way of truth".  Every message and teaching was centered around the Word of God.  There is a battle in Burkina Faso in many of the churches.  They don't believe that the Word of God is complete.  They are seeking signs, visions and prophecies.  They place more emphasis on their emotions and experiences than on the Word of God.  God allowed many of our church members to be strengthened.  One young man from another church came to me in the middle of the week and said that he was touched because we follow the Word of God.  Many God honoring decisions were made during the week.
A young lady named Raissa approached me Thursday night after the evening service. She asked if she could talk to me. She began to cry and tell me that she has been living a lie. She was afraid to come forward because of what others would think of her. She said that when she was in a village (in another church) the pastor asked all those who wanted to receive Jesus to come forward. Then he prayed over them, and that was it. She told me that she knew she wasn't saved for awhile. She was ashamed to come forward, but she couldn't take it anymore. With tears rolling down her face and tears rolling down my face, she prayed and trusted Christ as her Saviour.
Before leaving the camp Friday morning I shared what God has done in the life of Raissa. A few hours later, my wife received a call and her sister Elodie said she needed to come over. She came to the house and told my wife that Raissa's testimony touched her. She had been doubting a long time but was ashamed to come forward. She prayed on our front porch.
Sunday night we had a testimony time at Living Water Baptist Church. For over an hour, the youth and a few other members gave testimonies of what God did in their lives. Rassia and Elodie shared their testimonies of salvation. Another young lady named Marie Paul stood up and said that she was also touched on Friday morning because of Raissa's testimony. While she was on the bus ride home she knew what she needed to do, and she trusted Christ in her home Friday afternoon. After church, a young lady named Melissa talked to my wife and said that she has doubts for a long time. She trusted Christ. I don't know how else to explain it, but that God is good.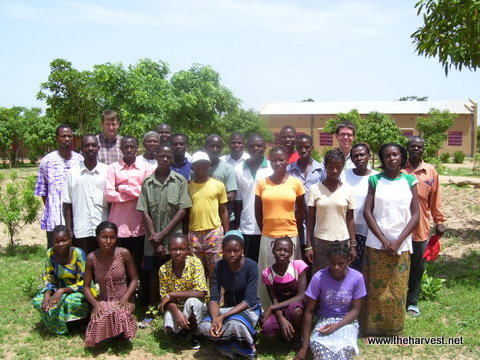 Above is a picture from our camp in 2008.  Below is from last week.